Welcome to HERE platform, the one-stop location services site. Platform brings all of HERE's location services, data, and SDKs under a single console experience. This article is a brief tour of HERE platform after you create an account.
What does platform enable?
Platform is the entry point to HERE's comprehensive location services and data. With platform, you can build custom mapping applications complete with search, routing, and navigation. Furthermore, you can visualize your data with fully customized interactive maps to generate insights and uncover location data patterns. Applications are backed by HERE's highly configurable and scalable services, allowing you to confidently monetize your location-centric products, whether built for the web or mobile.
Choose your plan
When you create a new account or migrate from developer.here.com, you have the opportunity to add payment information for the Base Plan or continue with a free Limited Plan.
The Base Plan is a pay-as-you-grow transaction pricing for all HERE Location Services, Data Services and HERE Lite, Explore and Data SDKs. In addition, HERE Maps API for JavaScript and HERE Studio are also available. Platform includes free administrative tools for User & App Management, Groups, and Billing for your development teams. You have access to first-tier support via Stack Overflow & knowledge base access. A Developer Support plan can be purchased as an add-on. A credit card is required during registration, but users will not be charged unless they exceed the free tier of any Platform Resource. Pricing for services is listed on the HERE website.
Suppose you choose the Limited Plan (credit card not required). In that case, you get 1000 free daily HERE Location Services (excludes Matrix Routing and Tour Planning) requests with RPS limits,  HERE Maps API for JavaScript, free administrative tools for User & App Management, Groups and Billing and first-tier free community support via Stack Overflow and knowledge base access. The landing page for Base Plan accounts is shown below.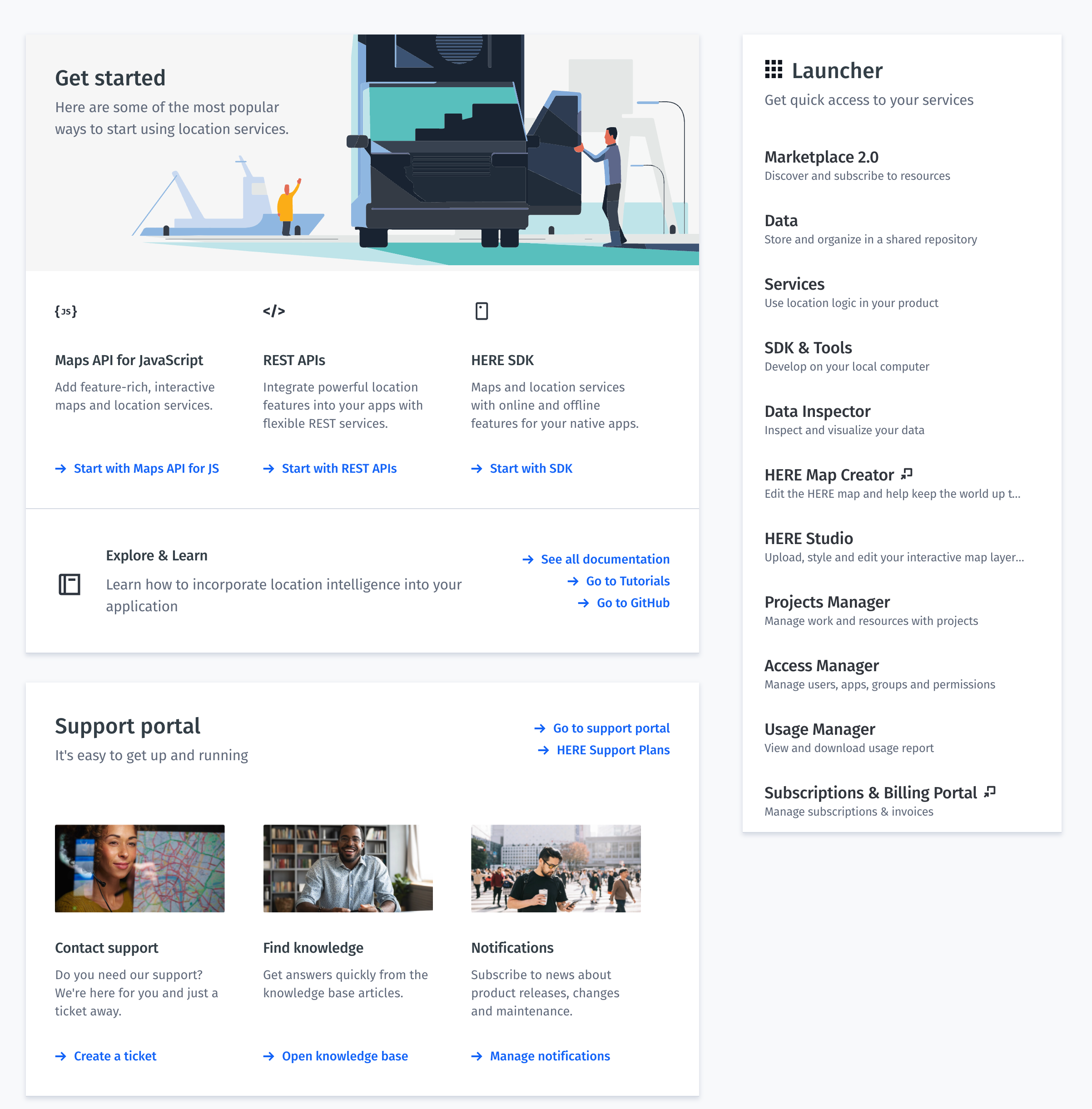 What do you get?
Let's get straight to the point. If you select the Base Plan, you have access to Marketplace 2.0 to data and popular services. HERE's full range of 40 services is under the Services link. Additionally, you have access to HERE's language and operating SDKs for Java and Scala, Python, C++, Typescript, Android, iOS, and Flutter. Both Base and Limited Plan include Projects Manager for working with resources, Access Manager for managing apps, groups, and permissions, and Usage Manage for viewing and downloading usage reports. Another tool that Base and Limited plans share is HERE Map Creator, which lets you edit and update HERE map data. The Launcher menu for the Base Plan shows the full range of HERE platform options.
The main differences between the Base and Limited plans are access to HERE SDKs and data storage and transfer. Note that the Limited plan also includes the Maps API for JavaScript and access to the Services REST APIs with a 1000 request limit for free. Adding payment information removes the limit.
Support
Both plans include tier 1 support via Stack Overflow and the HERE knowledge base access. With the Base plan, you can purchase the HERE Support Plan.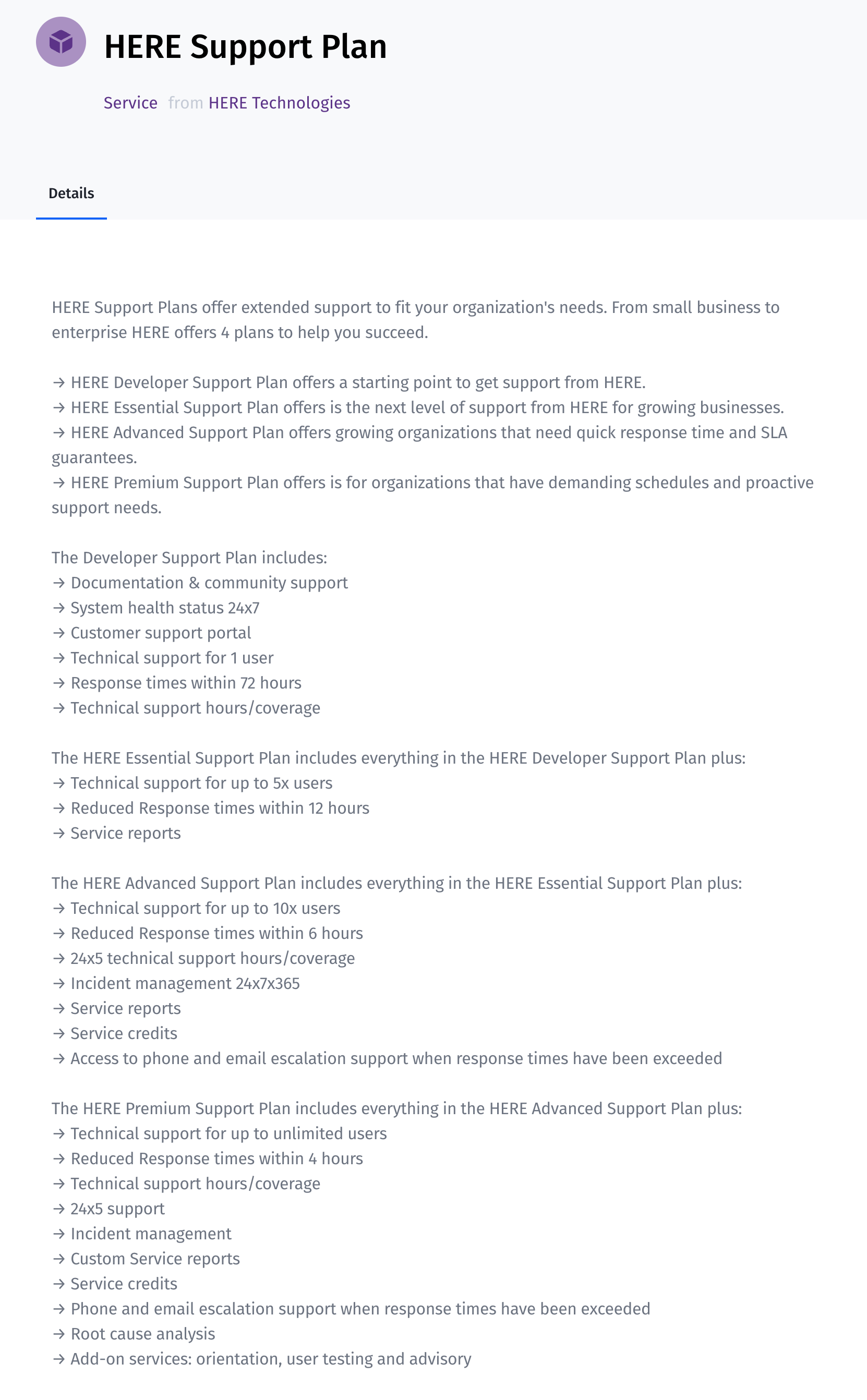 Make it happen
What's stopping you from building a custom location services application? With the HERE platform, you can try all the HERE API services for free with a limit of 1000 requests per day. Adding payment information unlocks the HERE SDKs for multiple languages and the Android and iOS ecosystems. Experience professional-grade location services by signing up at platform.here.com.