In October of 2020, HERE announced the launch of the HERE Map Data Hackathon. This was to help developer discover our latest offering, Data Layers which gives you access to our geographic data. Covering ten different layers of data for nearly seventy different cities around the world, Data Layers lets developers use their own tools to examine and build upon an incredible amount of map data. (See our introductory blog post for more information.)
The hackathon ran for about six weeks and we had a large number of fascinating entries from around the world. Today we're happy to announce the winners and their project, Gefahrradtour. Comprised of three individuals from Germany, Gefahrradtour is a fascinating look at combining map data with safety data.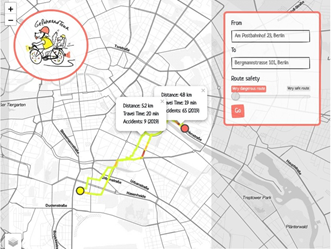 Gefahrradtour is a web application built to enable bicyclists to safely get from one place to another. In many cases, a route from one place to another may be quickest for a vehicle but inherently dangerous for a person on a bicycle. In 2019, Berlin recorded over five thousand accidents involving bicyclists of which thirty four were fatal.
The Gefahrradtour team took public data on these accidents and HERE Data Layers information for Berlin and made use of R to create a method of determining not just the shortest route between two points but also the safest.
The web application lets you move a slider from quicker (and potentially most dangerous) to most safe. For example, here's a sample route that starts off with the quickest but dangerous route: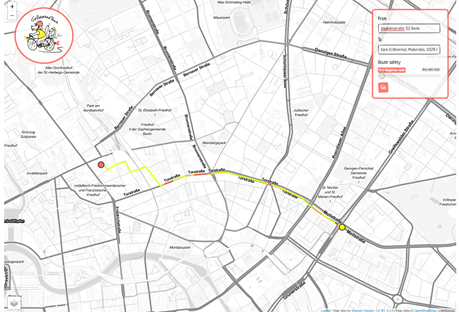 In the image above, you can see two portions of the route highlighted in red. Clicking on them provides more information: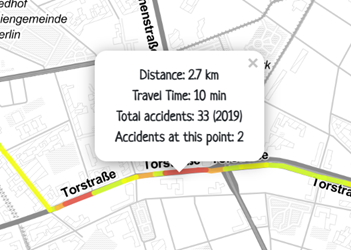 Compare this to the very safe route: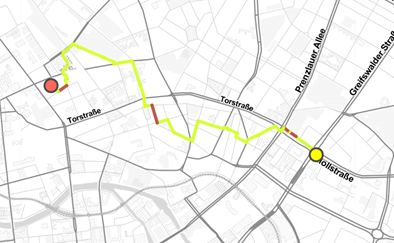 While there's still dangerous areas, overall it should be a safer route for the potential trip.
The team behind the submission included:
Emelie Hofland: Emelie has a background in sociology, but took part-time jobs and online courses to learn both Python and R. She got into hackathons via her partner and enjoys creating these types of projects. Most importantly - she's learning to play the banjo.
Jasmin Classen: Jasmin is currently working on her Master's degree in Social and Economic Data Science. She originally got into coding and data analysis after being exposed to statistics and R while earning her Bachelors. After completing her Bachelors she decided to continue with a more technical degree and has since learned Python and more computer science topics.
Jordan Skubic: Jordan works together with Jasmin and Emelie at Flixbus and has a background in philosophy and economics. He credits his time at college as having exposed him to the importance of using a bike in an urban center. Like his team mates, he learned R and Python and used them to help further his interest in urban mobility.
To learn more about the winning submission, you can see their post at the Hackathon as well as check out their GitHub repo: https://github.com/Emelieh21/Gefahrradtour And finally, they've got the application up and running here: https://emelieh21.shinyapps.io/Gefahrradtour/ Thanks to Emelie, Jasmin, and Jordan for a fascinating submission and congrats again on your win!