When you need to build a custom map, you need at least 3 things: a map (obvious), data (a lot of data) and a tool that allow you to manage the previous two things.
XYZ Studio is a tool that allow you to create custom map, and manage data in multiple ways:
uploading your dataset of data;
creating points and shape from scratch on map;
selecting some public dataset available on XYZ.
The easiest and fastest way to use XYZ Studio is to create a new project (map), and then add new existing public dataset available.
Access to XYZ Studio
In order to use XYZ Studio you need to have an account on the HERE developer portal.
Go to https://xyz.here.com/studio/ and if you already have an account, input your credentials and then click on Sign in to login.

If you don't have a valid account, you can click on "Register for a HERE account" and start the registration process.

Atg the next step, choose the freemium plan so you can start using HERE XYZ Studio for free with a generous allowance in terms of transactions (API calls) and volume (amount of data exchanged with APIs).
Create a new project
After the login process, you will be redirected to your dashboard with your project/map previously created. If you are a new user you will see an empty dashboard.
To create a new map click on the button "Create new project" on top left of the screen.

Once you have a new empty project, you need to add some data.
The easiest way to add data to your map is to use the public dataset available on HERE XYZ Studio. These public datasets exist in XYZ Studio thanks to Microsoft US Building Footprints project.
These datasets are computer generated building footprints for the United States. If you want to take a look to the project I suggest you to read: https://github.com/Microsoft/USBuildingFootprints.
Once you clicked "Create new project" button in your dashboard page, you will be redirected to the Project page.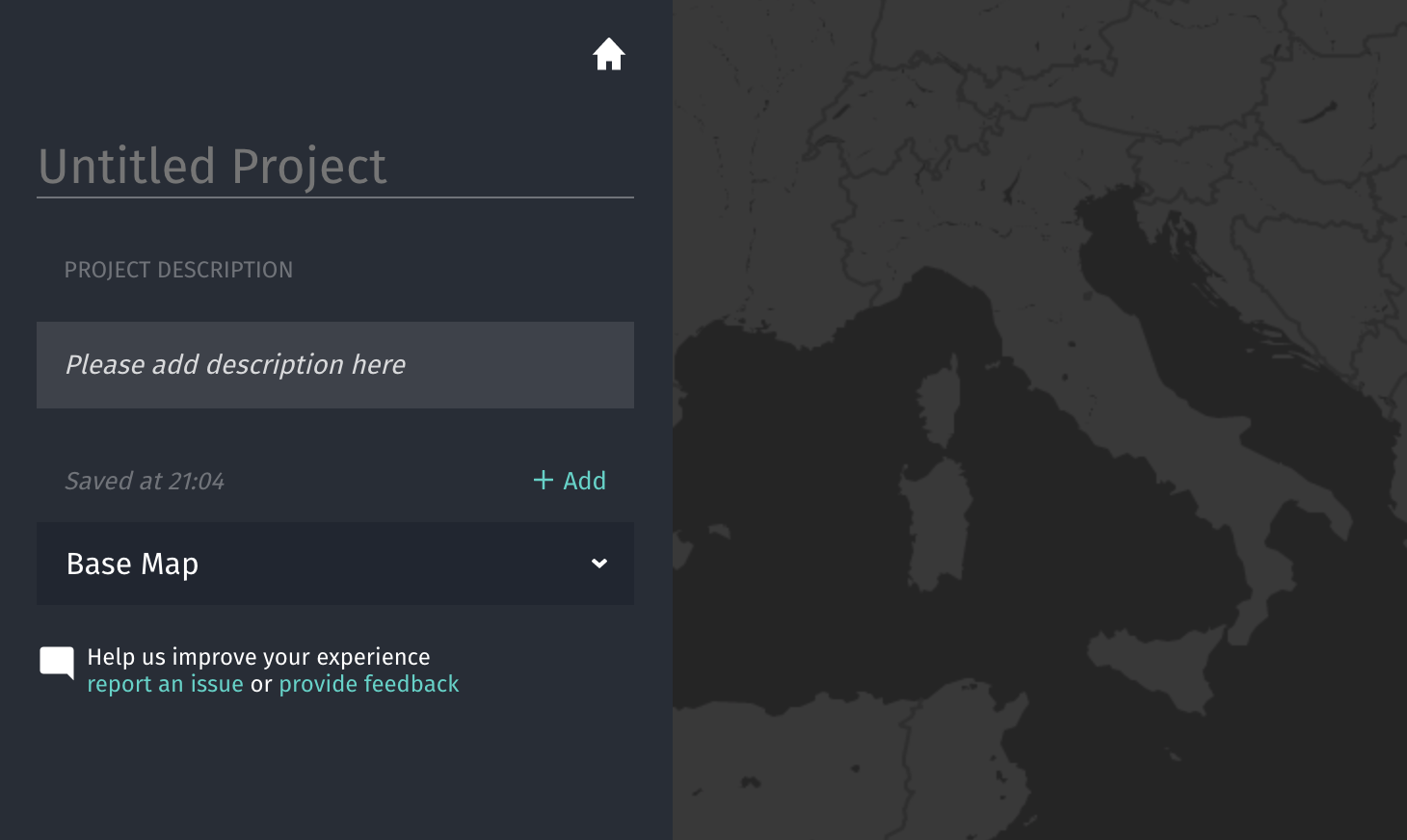 On the left you have a sidebar where you can manage your Map (create layer, add data, edit name and description, publish project).
Add data to your new empty map
In order to add a public dataset in your map, click on "+ Add" call to action.
In the "Add data" page, click on "Choose XYZ Space" button.
In the page "Public Data in XYZ Space" you can start typing your state, country, city that you want to include in your map.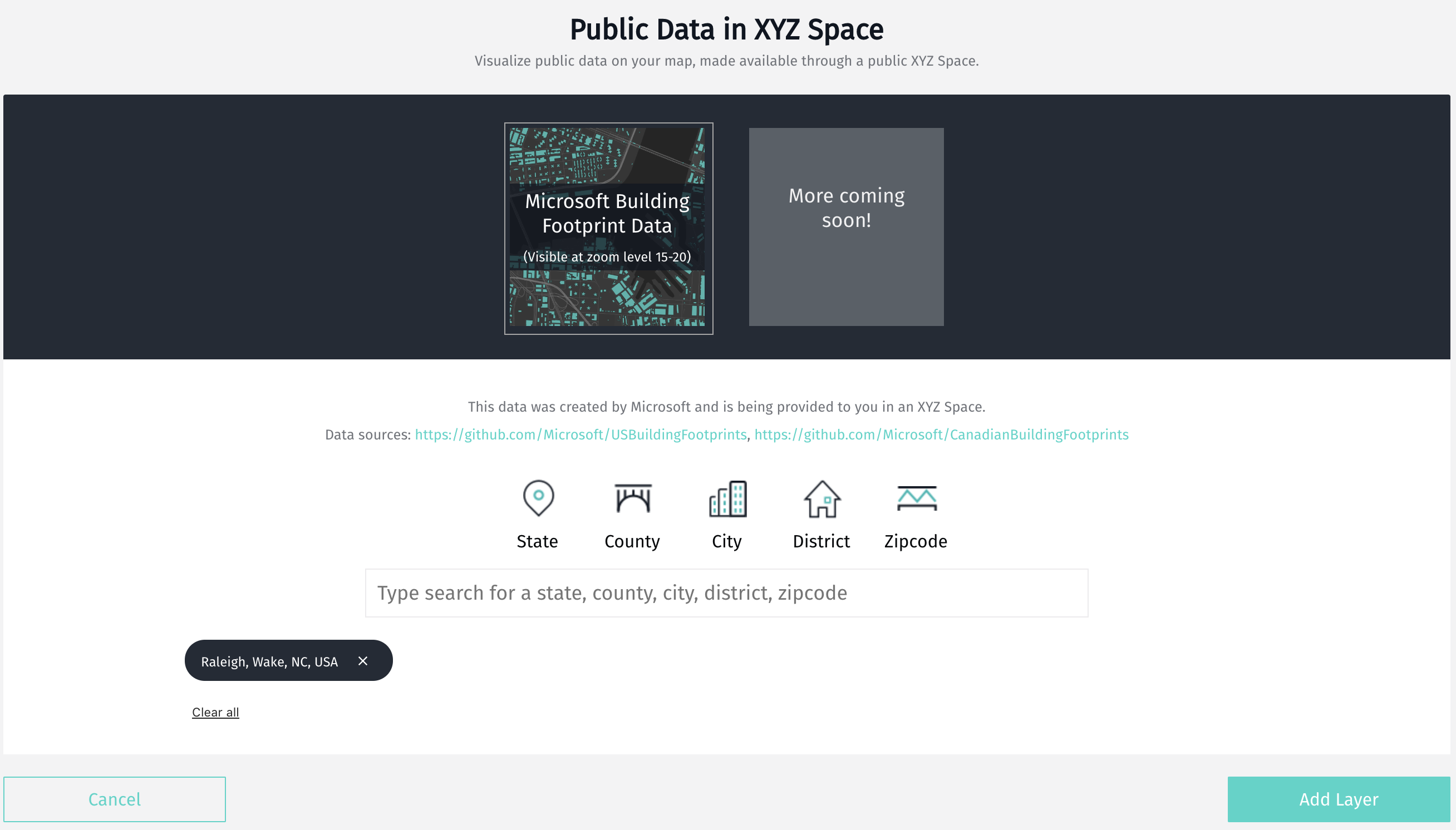 For example I selected Raleigh. You can select more than one place.
Once you selected your locations click on "Add Layer" button to add these data on your map.
You will see buildings on your map and a new layer on the left sidebar, named "Building Footprints".
Style your buildings
XYZ Studio allow you to style your map based on your own rules. For example you can color with red all your buildings for a specific street. If you want to style buildings in a specific street, select a building on the map. On the sidebar you will see all details of the building you selected.
On the street attribute, select the paintbrush icon to create new style rule.
On the "Add new style group" page you will see all parameters set as your selection.
For example you will see:
Property: street
Condition: Equals
Value: the street name of the building you selected on the map
Click on "Confirm" button to create a new style rule.
Now you will have your new Polygon style on the left sidebar, and you can change the color, for example "Red". You will see that all buildings of the street you selected will be colored with red color.
You can play with different style with different properties, so you can customize your map.
Publish your map
Once you added data on your map and you customized the style of your map, you are ready to publish your map, in order to share your map with your friends, colleagues or embed your map in your blog or website.
On the left side bar, click on "Publish Settings" and in the Publish Settings popup window, click on the checkbox "Publish Map".
If you scroll down "Publish Settings" window you can see the field "URL". You can copy and share that URL in order to allow other people to see your customized map with public US footprint buildings.