HERE Technologies recently announced the release of Data Layers where they provide GeoJSON map data you can download and explore and I wanted to use this chance to try a few different tools to visualize this data. In this blog post, I'll use HERE data layers and visualize that data using HERE Studio, ArcGIS, Tableau, and Kepler.gl and I'll share my experience with the different features and limitations of each platform and how quickly I was able to get started with each of them. I'll use the traffic signs near Rosario, Argentina.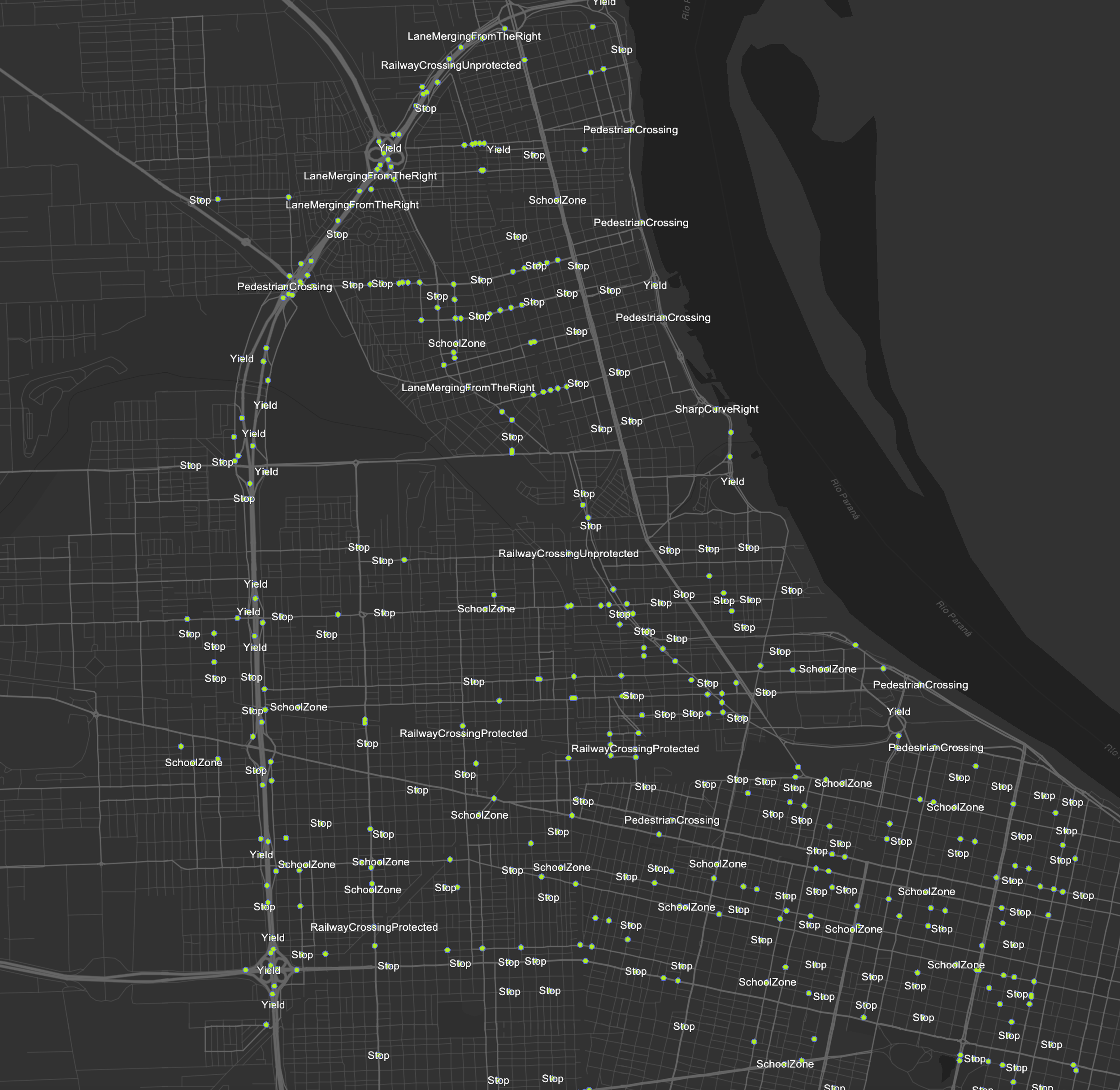 I created a free HERE Account to use HERE Studio. I like how simple it was to get started, and that I was able to easily upload multiple data sets and visualize and compare them. HERE Studio allows for customizing the base map and marker shapes and colors. It also allows publishing your map and sharing it publicly with a link or embedding it to other web pages. One last fun feature that I liked was customizing the labels where I could display the labels based on different attributes in my data. For this example, I'm selecting the label based on the signType, but I could also select things like category of the sign and I'd have labels displaying: warning, regulating, or informing.
Time to get started: ~5 minutes 
Account Registration: Free Account with 90 day trial 
Fun features: customizing the icon, uploading your own icon, publishing map and embedding in other websites, customizing label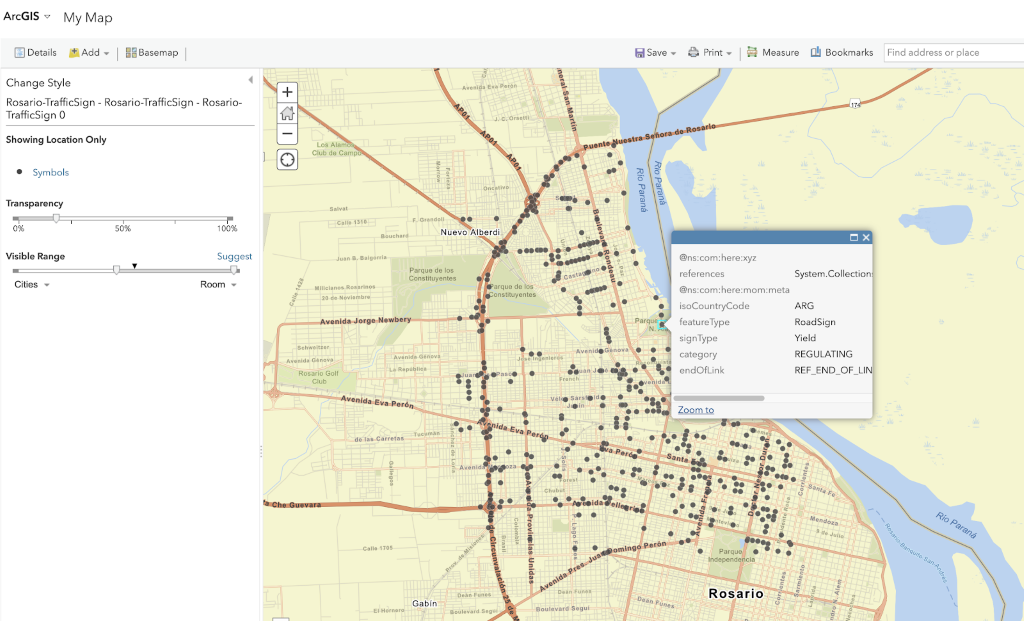 All I needed to do to get started with ArcGIS was incredibly easy and quick to get started besides the immediate step that was confusing: It wasn't clear that I had to first click "modify map" to be able to add a layer. It did, however, provide an easy drag and drop option for CSV, TXT, and GPX files but my data was in GeoJSON format so I had to upload it as a layer.
It, unfortunately, didn't support larger datasets that I was able to visualize with HERE Studio and the functionalities were relatively limited. You could customize the pointer to some extent, but not much more than that.
Time to get started: ~3 minutes 
Account Registration: No account required 
Fun features: Drag and drop option for some file types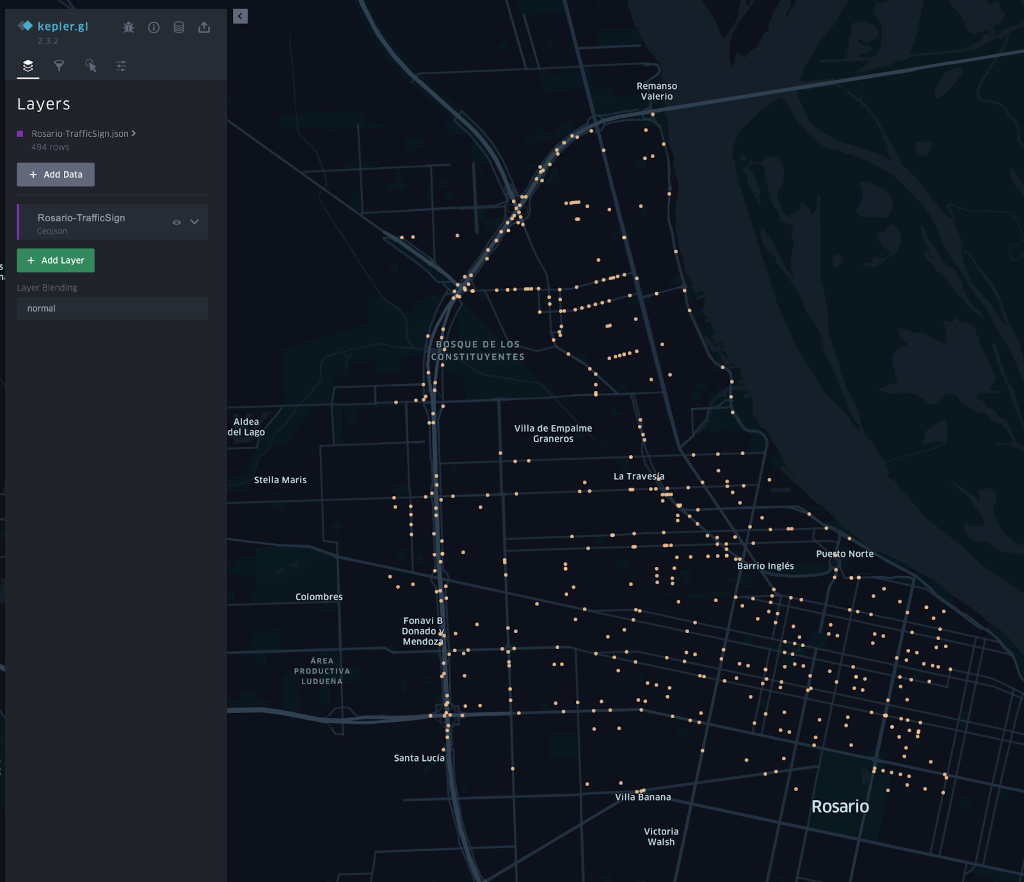 I learned about Kepler.gl in a talk by Shan He, an ex Uber Engineer. Working with Kepler.gl was easy and fun. What stood out to me most was how easy it was to upload multiple datasets and visualize them together quickly on the map to find correlations.  
Time to get started: ~1 minute 
Account Registration: No account required 
Fun features: Beautiful visualizations for multiple datasets 
Working with Tableau took me the longest of all, but Tableau is quite powerful so we can forgive the delayed start. The part that I had the most difficulty with was choosing the latitude and longitude from the calculated data and it didn't feel very intuitive but when I got things to work, I was able to get pretty exciting visualizations that I, unfortunately, can't share here because I was busy with a few other projects after I first tried Tableau and my trial ended before I got a chance to take a screenshot.
Time to get started: ~20 minutes 
Account Registration: Account required with 14 day trial 
Fun features: Powerful visualization capabilities 

Thanks for joining me today on exploring different visualization tools! Do you have any favorite tools for visualizing mapping data? Share your thoughts with us on twitter.