Developers are constantly learning. There are many technologies, languages, and platforms, and there are many options for getting ramped up. Since developers are busy people, many seek ways to train on their own terms. Often the path is self-taught, and the developer relations team at HERE are in constant pursuit to make the journey even better. Because our APIs are integrated with so many technologies, it would be ideal to learn how to develop with our location services while also learning other platforms.
For example, Amazon provides popular self-paced workshops known as Wild Rydes Serverless Workshops. These workshops allow developers to learn facets of AWS by developing solutions around a new (fictional) ride-share experience featuring unicorns.
Because these scenarios are highly location-centric, we provided a couple extensions to these workshops to demonstrate how to implement desirable features such as improved user experience and enriching data analytics. You can find these extensions at Amazon's home page for Wild Rydes Serverless Workshops under the heading "Third Party Workshops". You can also access the extensions directly at our github repository.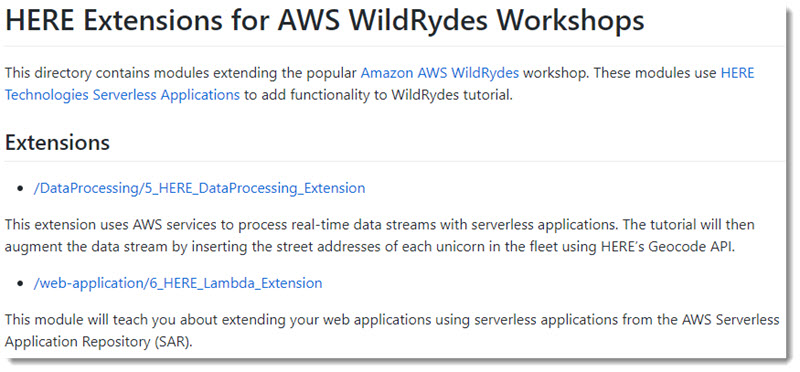 The extensions require completing some of the Amazon provided workshops first. Before getting started, you will need to have the following accounts:
We encourage developers to try out these extensions at their own pace. If you would like to catch a glimpse of what is involved, please check out our episode showcasing the highlights of the workshops and extensions below!