Earlier this month, I shared the first set of winners from our Mapathon. This contest was designed to get people (designers and developers) to work together taking public data and HERE Studio to create impactful maps. My previous post covered the first five runner ups and today I'm going to continue sharing more awesome examples from our community!
Finalist 6: EForEffect
The EForEffect team looked into mapping health resources in Malaysia as a way to help issues with wait times and over-crowding. By mapping out the health-related data (population and life expectancy, the number of medical professionals, total hospitals and clinics, and finally the total number of diseases) available now, decisions about future improvements could be made easier, especially in terms of where budgetary dollars are most needed.
You can find their demo here: https://eforeffectheremapathon.herokuapp.com/. More details about their project may be found here. 
Audience Prize: Guan Software Crew
Our next runner up won the "Audience Prize" for the show as the most liked by people watching the final video stream for the mapathon. Their creation, Fe-Map, helps raise awareness of gender-based murder. Over half of women murdered were killed by intimate partners or other family members. The team attempted to map out data related to these murders to give viewers a better idea as to how prevalent these crimes are. Their project generated two maps (first and second) and you can read more about their project here.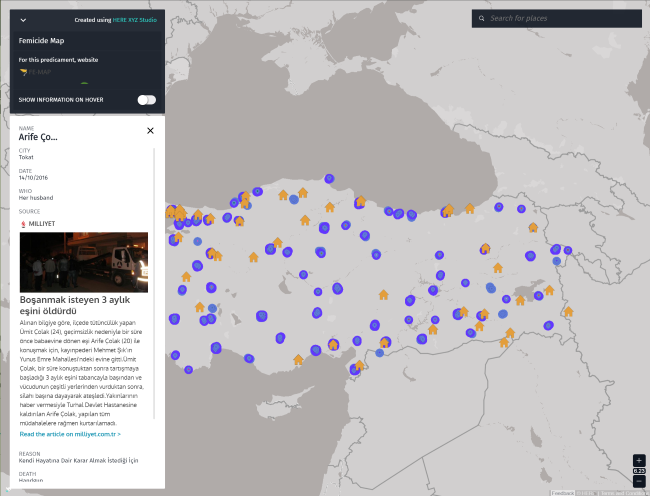 3rd Place: MAPM
In third place was MAPM, a group that used mapping to help you find a new place to live. By adding data that home searchers may care about (access to green spaces, public transportation, noise pollution levels, and so forth), a prospective buyer can determine which areas of a city may be best suited for them. Their interactive map lets the viewer determine which factors they care about the most. Read more about their project here.
2nd Place: Commute Reducer
The second place submission was a beautiful map called Commute Reducer. This team made use of public US government data to map out the economic cost lost due to commuting. The more intense the color of a region the worse the impact is. The map has an incredibly cool kind of retro look to it that I love. You can demo it here and see more about the project here.