It's in times of great challenges when our developer community truly shines. When our Asia-Pacific developer community faced the wildfires in Australia and the COVID-19 pandemic earlier this year, we knew we had to be there to help our developers find ways to solve these and similar issues that might happen in the future. While we have really been missing the personal contact with our community through in-person events, we had to provide the experience and resources for addressing COVID-19 through virtually. Enter: #HackForBetterDays
#HackForBetterDays was our first virtual hackathon with the purpose to find disruptive solutions and hack the COVID-19 curve in the region.
We wanted this month-long hackathon to bring partners, developers, designers, cartographers and entrepreneurs together to work on solutions to enable a more resilient and just future for all.
Our month-long hacking journey was an exciting one thanks to our partners like IBM, Outsystems, Twilio, AURIN and Postman (see the full list here) who helped participants improve their skills constantly with trainings, workshops and technical support on the event channels. We had the most amazing participants too! They stayed fully engaged with us for over four weeks and our hack's Slack channel was constantly flooded with hundreds of messages a day.
#HackForBetterDays had two main tracks; app development and visualization. In total, we received over 90 projects from 850+ people, and our prize pool included over $12,500 USD cash, merchandise and various partner category prizes.  
We announced the winners during at the virtual closing ceremony on June 5th. Now, let's have a look at the winning solutions which we believe to have the potential to create a change in their community and help the COVID-19 related struggles.
App Development Track
1st Place ($5000): Hack Guam from Australia
Hack Guam's app (called PopupGuam) connects producers and consumers of fresh produce and addresses issues related to COVID-19 including food waste, economic crisis, and social distancing.
2nd Place ($3500): Project Moses from Philippines
An All-in-One platform for Filipinos in times of calamity and crisis bridging the gap between crisis response actors. The platform brings the medical institutions, medical professionals, patients and citizens together to win the fight against COVID-19 pandemic. ​
3rd Place ($2000): OopsIDidItAgain​ from India
COVID-Oversight is a one-stop solution for visualizing local risky areas, finding safe stores and safer routes for visiting them. It creates systematic queues for reducing delays and a case reporting mechanism for leveraging crowd-sourced data to map the crisis and protect one and all.
Visualization Track
Our winners on visualization track used HERE Studio and created impactful maps around COVID-19 related issues to help their local communities, SMEs and governments.
1st place ($1000): Alex Vedernikov – Australia
2nd place ($500): Manjunatha Venkatappa – Thailand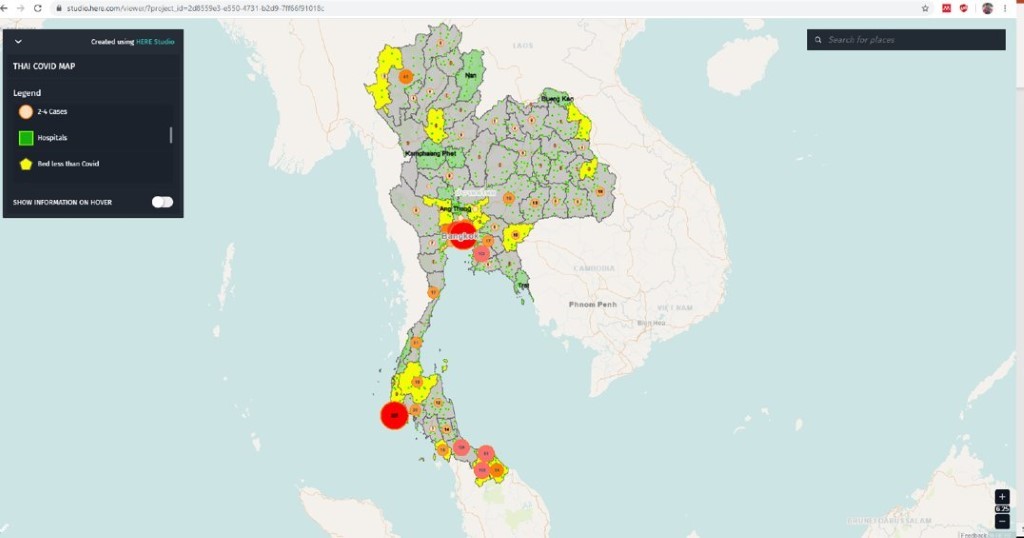 3rd place ($500): Frialdhy Ketty – Indonesia
4th  place ($150): Jannieca Camba – Phillipines
5th  place ($150): Maria Kottermair – Guam
HERE Technologies and some of the hack's partners will keep on nurturing these teams and individuals by providing mentorship in the upcoming months and help with further business development.
We are thankful to all of our wonderful participants who have become part of our lives for the last 6 weeks and also our enterprise partners who made this event possible and showed that when it comes to the humanitarian efforts, there is no siloed approach, we are all in this together.
To see the hack page, visit here.