We are always in pursuit of an autonomous world - one that efficiently automates tasks both small and large. We are also human, and desire the best possible user experience. Developers are often mandated to provide a solution that meets these requirements. Today, we are happy to announce our new tutorial to aid developers in there quest to meet such demands. The tutorial is titled "Extend the Capability of Amazon Lex with HERE Location Services", and the link to it is posted at the end of this post. For now, we will provide an overview of what is covered, the major services used, and the possibilities of how developers could use skills learned moving forward.
Overview
The objective of the tutorial is to guide developers to create a chat bot within a collaborative environment to answer questions regarding the location of assets. Specifically, developers will create an AWS Lex chatbot for use within a Slack application, using HERE location services to determine the location of assets within the greater Seattle area.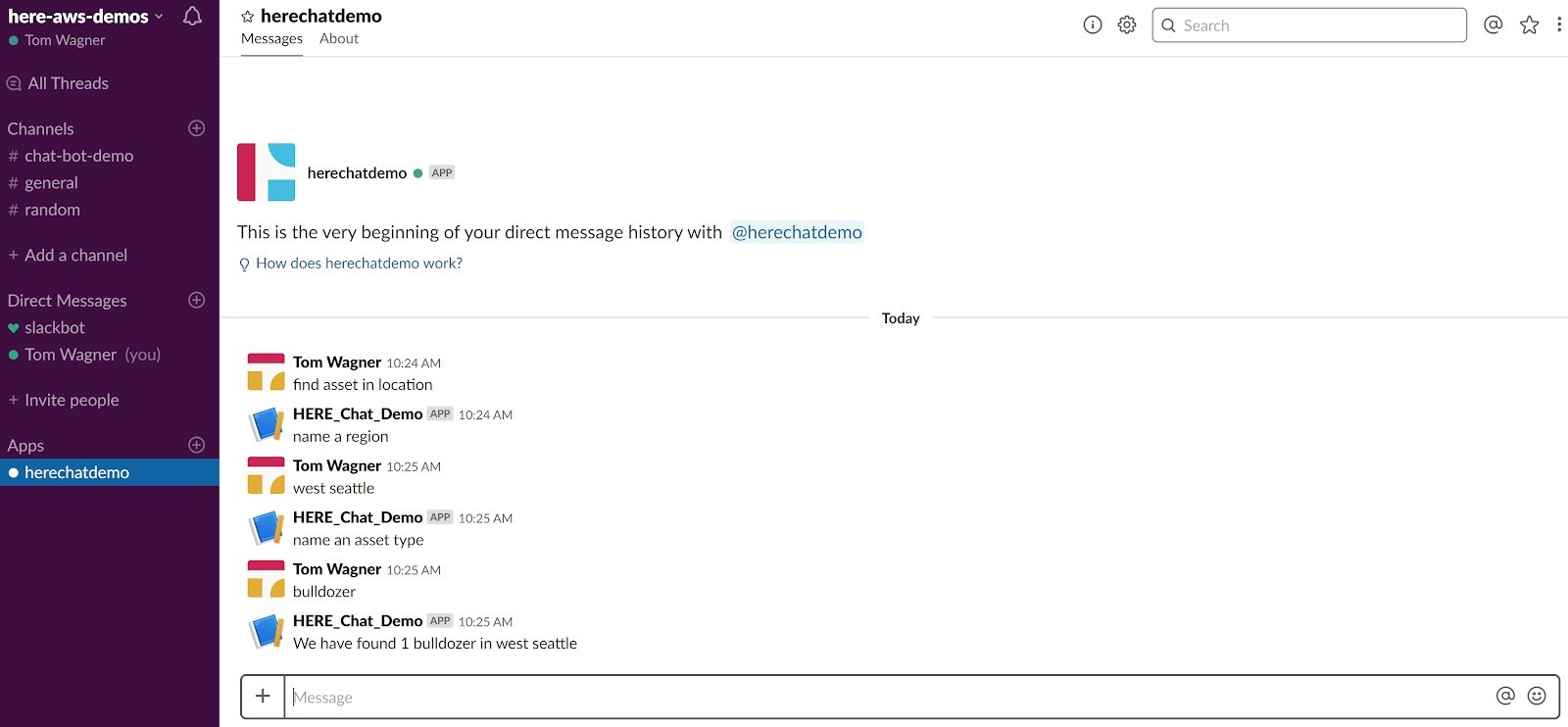 The following are prerequisites for getting started:
It is assumed developers are familiar with AWS, Slack, and have a basic understanding of development tools such as NPM. Now let's consider each major service used in the tutorial in more detail.
Amazon Lex
A chatbot is a service that allows automated real-time communication with a person via text or voice. In the tutorial, the service is text-based only. You will create an Amazon Lex chatbot to ask a simple question about the location of assets. The chatbot service will prompt the user for additional information when needed. If you have never developed a chatbot before, this is a great way to learn!
Slack
Here is how Slack describes itself:
Slack is a collaboration hub for work, no matter what work you do. It's a place where conversations happen, decisions are made, and information is always at your fingertips. With Slack, your team is better connected.
In the tutorial, Slack is the environment you will invoke the chatbot from.
HERE Location Services
At the core of the chatbot intelligence is determining the location of assets. You will be guided to create an AWS Lambda that will be invoked by the chatbot to provide determine location based on geofencing. Although the assets never move (coordinates are statically added), the geofencing logic is called in real-time to determine location.
At the end of the tutorial, developers could take any of the lessons learned to the next level. For example, with HERE location services, using the Positioning API to extract coordinates of actual assets. With Amazon Lex, adding more natural language elements to the conversation, or hosting in other collaborative environments.
Call to Action
We welcome you to now get started at our tutorial - Extend the Capability of Amazon Lex Chatbot with HERE Location Services. Also, please join us for our webinar on Tuesday March 12th for a technical review of this topic. Happy coding!