Seamlessly integrate HERE Location Intelligence into your SAP application or solution
HERE and SAP have partnered to create scalable solutions to manage the challenges of a growing world. By opening up location data and intelligence, and combining it with the process expertise of SAP, we are serving up insights to help you make the right decisions at the right time.
The SAP API Business Hub is the proving ground for solving the world's problems through business, and with HERE location intelligence we've added a new toolset to help SAP developers tackle those problems. The SAP API Business Hub allows application and integration developers discover, test and consume SLA backed HERE location APIs on the SAP Cloud platform including SAP HANA.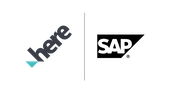 Convert street addresses to geo-coordinates and vice-versa with geocoding, including landmarks, and reverse geocoding.
Correct misspellings and get better suggestions for your address search with fewer keystrokes.
Send up to a million lines of address information for geocoding in batch process.
Build applications that require location estimates based on radio network measurement data. The supported measurement data includes 2G, 3G, 4G, and WLAN measurements.
Display map tiles with real-time traffic flow information overlays reflected as colored lines drawn on affected streets and roads, and get access to incident data in XML and JSON.
Get access to rich transit features like search for transit stops, find next departures, transit routing and pedestrian access points.
Get precise instructions to a destination using various transport modes (e.g., car, truck, public transit, bicycle) and leveraging different algorithms (e.g., matrix, isoline routing).
Give insights into real-time weather forecasts, weather alerts, and astronomical info for any location.
Get access to pre-rendered map images optimized for desktop and mobile devices.
Show fresh day-time map tiles in multiple styles (base, aerial) including rendered live-traffic tiles for flow overlay.
Find (e.g. search for name, type, category), discover (e.g., look into address, contact info) and interact with POIs (e.g. enable user reviews, photos).
Advanced algorithms for optimal truck routing and planning with a deep set of data including truck attributes (maximum height and weight clearance), toll costs, and environmental zones.
Start building today
Get instant access to HERE Location Intelligence for the SAP API Business Hub