HERE at the SETE Tourism Crowdhackathon in Athens
The HERE mobile app is a favorite companion of travelers world-wide, not only because of its powerful offline mode. It's no surprise then that HERE's map APIs and SDKs are also a favorite among developers creating applications in the tourism space.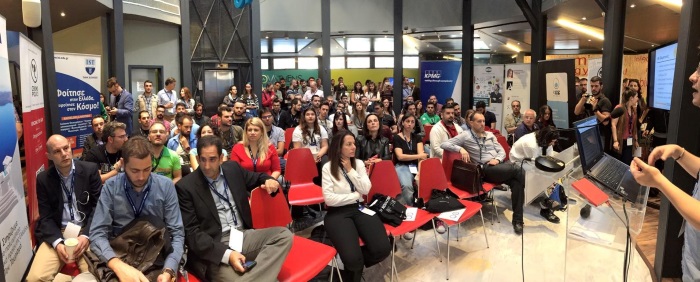 A great example of this was the SETE Tourism crowdhackathon, which took place on 17th and 18th of October at the Athens Technopolis Center, focused on the design and development of innovative applications through the use of open source data and to promote entrepreneurship and improved services in the Greek tourism industry. 25 teams took part, composed of over 170 young entrepreneurs, programmers, developers, engineers, designers, business consultants, professionals and students.
During the two-day event, these teams developed applications for tourism through the use of open data. Thirty-five mentors and 16 judges were present at the event to offer support and advice to all, including HERE's Hauke Pritschow and Vasilis Pagonis. HERE also sponsored one of the main prizes
Given the tourism theme of the hackathon, it shouldn't be a surprise that the HERE APIs and SDKs were in high demand by the teams. Some of the innovative applications developed during the event include 1st prize winner SmartXPlorer, an information network for tourists based on extensive use of beacons, providing alerts based on content, mapping the area and directing tourists according to their personalized preferences. RSK Project puts the focus on the beautiful landscapes of the Greek countryside, by automatically creating "mini-sites" for small rural vacation destinations based on real-time data from the internet. Hopwave on the other hand focuses on getting you to some of those more remote destinations, helping you make sense of the ferry network between the many Greek islands.
Other entries included apps that allow you to find (or avoid) the busiest spots, create personalized guides for your trip and finally a solution to one of the classic dilemmas of any beach vacation: how to make sure that you can a prime spot in the sun before all the German tourists have reserved the best locations with one of those pesky towels.
top