Real-time processing
Instantly display large data sets tiled on a map. Edit data features in real time and update the map in unison.

Interoperable
Works with third-party renderers such as Tangram and Leaflet. Choose HERE Maps or OpenStreetMap as the base map.

Built on openness
HERE Studio is based on open source projects and open standards, and features a QGIS plugin for the popular GIS system.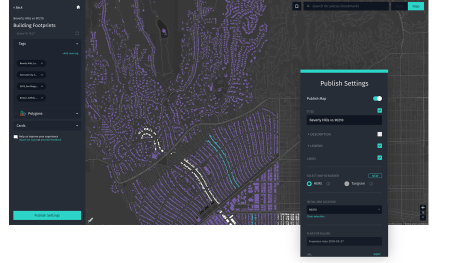 GUI map editor
Create interactive maps and manage large location data sets – without the need for coding or setting up an infrastructure. Upload private or open data sets in different formats, customize your map with colors and markers, and publish it in minutes.
Flexible node.js tool
Designed to give developers and cartographers greater control, the Command Line Interface is a flexible node.js tool for entering actions and interacting with the API. Create, manage, edit and share data sets with ease.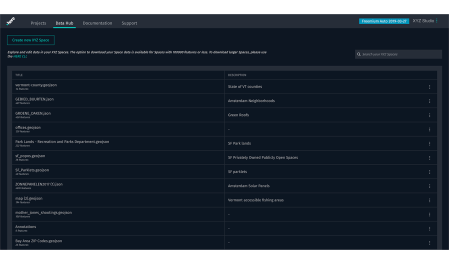 Powerful RESTful API
The RESTful API enables developers to perform granular geospatial functions, such as uploading, editing and publishing geospatial data. Create sophisticated web maps through API calls directly from your app.
Features and capabilities
Style data
Customize the look and feel of your map using an intuitive graphical interface. Choose from different base map styles, use conditional formatting to style subsets of data and create legends automatically to better understand your map.
Edit maps by adding geometry
Add features such as points, lines or polylines to your map, and highlight areas with markers, icons and text labels. Easily edit custom geometry by moving and reshaping. Any edits are automatically updated on your published map.
View data on a map or table
Upload data sets using the intuitive web app, or drag and drop files directly on your Studio map for faster interaction. Switch between map and table view to easily explore and edit data.
Publish your map in minutes
Publish your map in two clicks. Keep it for private use or share it with the world. Leverage an automatically generated URL or embed HTML code directly on your website to display your map inline.
Spaces
Spaces is a secure geospatial repository for your data. It enables the efficient use of geospatial data, which is key for large data sets. You can create Spaces, add and delete features, and search by bounding box or tags.
Tags
Retrieve data efficiently with tags – without querying the entire data set. As tags are associated with a subset of data, you can use different tags to accommodate the different ways you want to use or style your data.
Open data sets
Upload open geospatial data to your Space, including very large data sets. Leverage Microsoft's building footprint data directly in Studio, and layer all building footprints in the US and Canada. More open data sets will be added.
Streaming upload
Easily upload geospatial data formats that are spread over multiple files using the command line interface. Bring gigabytes of data to the Studio cloud using the -s flag, which will read the file in a data stream and prevent node errors.
QGIS plugin
Connect and update data directly in HERE XYZ using the XYZ QGIS plugin. QGIS users can publish their work and analysis in vectorized format. In addition, public and personal XYZ data can be loaded into QGIS for further analysis.
Map Gallery
Explore maps built with Studio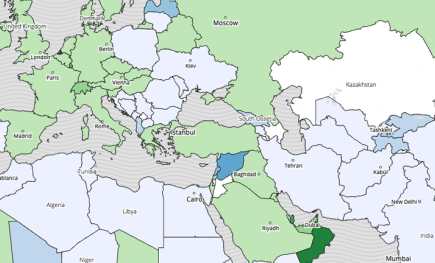 Worldwide migration
Mapping migration patterns from the 1990s through to 2020.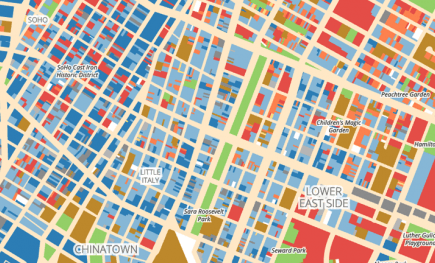 Land use comparison
The story of how New York City and Los Angeles were built.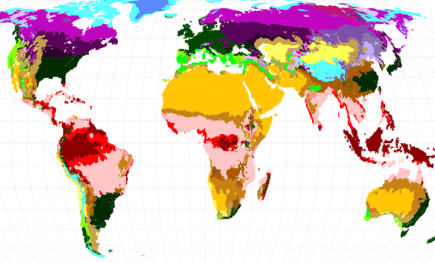 Climate projections
Visualizing how global warming will shift the climate.
HERE Studio
See how you can build maps with our intuitive web app. No coding necessary.
Command Line Interface
Create, manage and access private and open data using this command line tool.
API
Learn key concepts, get detailed examples and discover how to use the Hub API.
Maps JS
Get the tools you need to create maps and map applications.
API Reference
Explore the powerful REST API for accessing geospatial data.
Maps Playground
Experiment with map making using this easy-to-use exploration tool.
How does the Snowfall in December compare to the past?
Check out our blog to see how we used HERE Studio to answer that question.
Visualize Data from a XYZ Space in harp.gl
XYZ, our geospatial data storage and management solution, integrates well with harp.gl. See how you can visualize a tiled data source from an XYZ Space inside harp.gl.
Real-Time Maps with a Raspberry Pi, Golang, and HERE XYZ
Check out how to have a Raspberry Pi collect GPS data with Golang, push it to HERE XYZ, and view it on some web client in real-time by querying the data in HERE XYZ.

Slack
Be part of the conversation

Stack Overflow
Ask questions under the here-api tag

Twitch
Join our team for live coding sessions